Play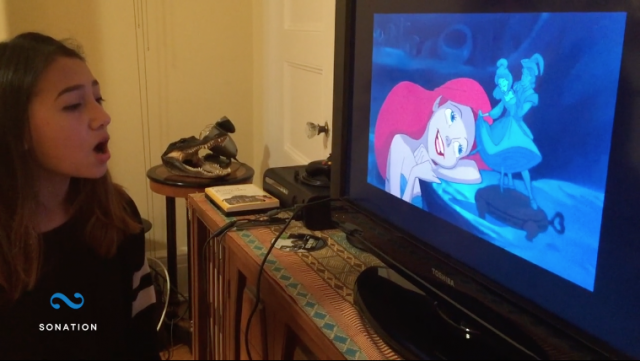 In this video Frances is watching The Little Mermaid on her iPad. When she sings "Part of Your World," the movie listens to her and fits the movie, including its sound effects to her singing. Near the end the timing changes when Frances decides to sing it again, but faster.
---
The Little Mermaid
Imagine watching an animated Disney classic, like The Little Mermaid. But this time, when your favorite song comes along, just sing it and the entire movie, including the audio, magically fits your voice, your expression, your timing. Any media can be driven by RAAR, including video, 360° video, audio, MIDI (including stage lighting, set motions, etc.).
Now, instead of a viewer driving the experience as a "sing along," imagine a film production setting. Multiple takes of the solo singer can vary as the artist pleases. The audio editor can disregard any timing differences and simply choose the best take. RAAR will instantly fit the best solo track with the backing tracks, even if their original timing is not the same. And it will do it automatically. So, this approach brings immense creative and time-saving benefits to media production workflows.
This prototype was built on the core AI audio engine we created at Sonation to predict a user's audio timing in real time to then synchronize pre-recorded media to their performance. While the initial application of this technology focused on the demanding timing synchronization requirements of fluid classical music performance, I developed and tested new applications for media experiences and production.