Paul Smith has over 15 years of experience distilling complex challenges and translating them into clear, effective services and products that deliver business value. Whether it's award-winning products for Harvard and MIT tech startups (Sonation, Smith Renaud), interactive presentations for Nobel Prize-winning scientists (Rockefeller University), research-driven improvements on college textbook apps (Pearson), or scalable content-syndication services for major publishers (Workman), Paul knows how to build and lead effective and diverse teams of engineers, designers, writers, and marketers to create the great experiences that get the job done.
I am a UX strategist and product design expert whose work makes it easier and more engaging for people to do what they are passionate about. I have helped companies and organizations increase retention and engagement, garner higher ratings, and boost word-of-mouth growth. I currently work on a special projects team at Pearson in Boston developing new products for life-long learning.
I'm proud of the work I did on the UX and product teams at Pearson, where we designed digital textbook features and improvements that increased engagement, app store ratings, and resulted in two design patents.
As head of product at Harvard startup, Sonation, I led a team that re-designed a university laboratory application as a new mobile app for musicians that made singing and playing music more fun and engaging. The app, Cadenza, grew monthly active users over 800% in the first year and was selected by Apple as a "best new app" in the US and twenty other countries. Seeing the enormous enthusiastic reception for the product, including an invitation to present it at Apple headquarters in Cupertino remains one of the most gratifying achievements in my career.
At Yale and Rockefeller Universities I got the science education I never had while collaborating with Nobel prize-winning scientists, writers, and visual designers to translate complex biomedical research into engaging stories for the general public. A really fun job I was honored to be a part of.
Earlier in my career I founded MIT AI Lab spin-off Smith Renaud, where I served as CEO, creating service products for syndicating content and advanced web solutions for some of the world's pre-eminent cultural institutions, publishers, advertising agencies, and media companies, like Sony Classical, J Walter Thompson, Yo-Yo Ma, the American Museum of Natural History, Asia Society, and Workman Publishing. We were a great team on the cutting edge of Internet-based business models involving distributed, branded content (UPS package tracking, weather, cat calendars, etc.), web-based publishing services, and even crowd-sourced web content directories.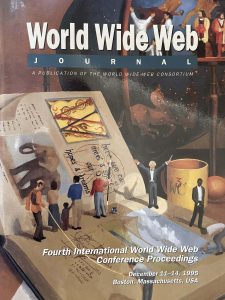 I revisited that ancient time the other day, when I dusted off the "1995 Proceedings of the International World Wide Web Conference" from my bookshelf. It was stunning to see on those pages so many of the successful Internet-based ideas today clearly anticipated and imagined, even in the very first years of the worldwide web's existence.
Twenty-five years ago I thought I was lucky to witness the inspiring flowering of what we all believed would become the world's second renaissance. Now, I feel even luckier to be here now to see that the promise of those early ideas, and many more since, has become accessible and achievable to nearly anyone, and to see that the renaissance is spreading and still going strong!